Doing The 92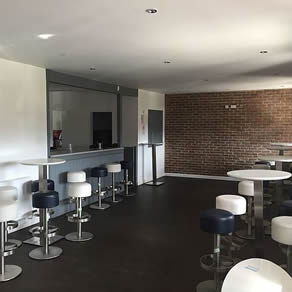 We are very proud to announce that Doing the 92 is the new sponsor of the Brickfield Lane Ground. Doing the 92 is a free website run for football fans by football fans. The press release from the Doing the 92 website reads:
"Like this site, Hadley is maintained by a loyal group of committee members and fans for no profit, and they have recently rallied round to create a ground for the team in the London Borough of Barnet. Many of them are disenchanted Barnet FC fans, who just wanted a local club to support again, and we are very pleased the fans and club were happy for us to get involved.
Hadley are managed by Spurs legend Micky Hazard and are hoping for a successful season in the Spartan South Midlands Premier Division. They have recently finished renovating their clubhouse, with Micky himself bringing in a few pieces of furniture from White Hart Lane when rebuilding started there in earnest. The ground is now fully up to standard, and they even brew and bottle their own beer on-site.
The Bricks would like to welcome all DT92 members along to see a game or two this season. We'll be holding a couple of special non-League days there, which will be a great opportunity for you to come along and meet other members, and to enjoy a bottle or two of Brick Beer.
So why are Doing the 92 getting involved with a team outside the 92? Well, if you've been logging your games on the site for a while there's a good chance you have a few grounds in there that are no longer part of the 92. We've noticed that the Beyond The 92 section is one of the most popular parts of the site, and many of you are enjoying getting round your local Leagues as much as you are trying to complete the 92. We feel very strongly that football at it's core needs the support of all of us, and events like the excellent Non-League Day help to keep it thriving. Getting to a couple of non-League games a season and buying a pie and a programme each time can be enough to help keep these teams afloat.
Of course this doesn't just go for Hadley - your local team probably has a similar core group of supporters who help to keep it ticking over. We just feel that this is a good opportunity to align ourselves with the grassroots of the game, and is an active way of showing our support. As the corporate circus at the other end makes it harder to afford or even find a ticket for a game involving the top clubs, it's refreshing to be able to turn up for a game, pay on the gate, wander round the ground, have a chat with the away fans and then have a beer afterwards with the Manager (and the players if he's not looking). There's no doubt that football at the top is now pitched as drama and theatre, but for a lot of us it is still a game and a bit of a laugh, and that is what makes our non-League clubs so special."
Visit the Doing The 92 website
WINKWORTH BARNET
With over 80 years combined local experience, you're in safe hands with Winkworth Barnet. Quite simply, no one knows Barnet like they do. Plus, their handy high street location means people are always dropping in. And whether you're buying, selling, renting, letting or simply looking for a bit of advice or to peruse their property list, they pride themselves on being friendly and helpful.
Paul Grover, Director of Winkworth Barnet, said "As we continue to immerse ourselves in the local community, we are so proud to be the main sponsor of Hadley FC. From all of us at Winkworth Barnet, we wish the players the best of luck!"
Guy Slee, Chairman of Hadley Football Club, said "Our club is run by a small but committed and hardworking group of volunteers and we are delighted to be supported by Winkworth Barnet - it really does have a hugely positive impact on our club. The players and managers cannot wait to see the new kits and training wear, and on behalf of everyone associated with Hadley FC, I would like to thank Winkworth Barnet for their generosity in what we hope is a long-lasting and successful partnership for all involved."
All at Hadley FC look forward to a long-lasting relationship with the Number 1 estate agents in the Barnet community.
Contact Winkworth Barnet
35 High Street, Barnet, EN5 5UW
Sales:+44 (0)20 8447 5656
Lettings:+44 (0)20 8447 5656
Email: barnet@winkworth.co.uk
Visit the Winkworth Barnet website
---
Other companies who support us
Brunswick Press
Naomi Gabrielle Photography & Design
Studio-83